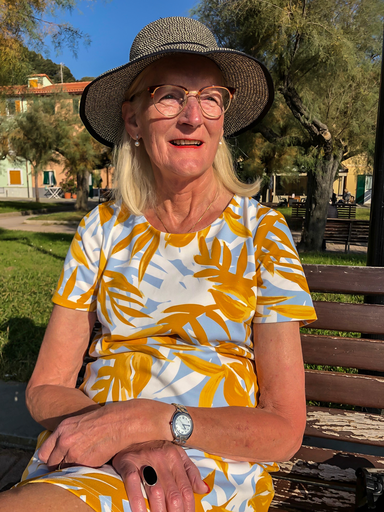 Hallo,
Ik ben Jeanny Jenniskens en heb al vele jaren plezier in het fotograferen.
Heb cursussen gevolgd om mijn camera beter te leren kennen, evenals enkele workshops van Steven Ruiter. Eind 2013 lid geworden van fotoclub Venray en verder lees ik veel boeken en tijdschriften over fotografie.
Er zijn vele onderwerpen en momenten om te fotograferen en voor mij betekent dat een herinnering vastleggen en sfeer oproepen. Tijdens een vakantie en er op uit trekken in de natuur, zijn voor mij de momenten waar ik geweldig van kan genieten.
TRAVELFOTOGRAFIE:
Doordat we kinderen in het buitenland hebben wonen, zijn we zo vaak als het kan daar. Travel fotografie is iets wat een groot onderdeel is geworden tijdens onze reizen.
Ik nodig u uit om een kijkje te nemen in mijn portfolio en zou het zeer waarderen als u een berichtje achterlaat in het gastenboek.
AFSCHEIDSFOTOGRAFIE:
Het maken van een uitvaart reportage is een herinnering voor later die u kan helpen met het verwerkingsproces. Ik vind het dan ook mooi om voor de familie deze herinnering te maken. Kijk op mijn site afscheidsfotograaf: http://www.jeannyjenniskens.nl
Alle foto's op mijn website zijn te koop in vele afmetingen en verschillende materialen zoals: forex, canvas, aluminium, plexieglas, hout, aluminium-dibond en metaal. Sommige materialen zijn zelfs geschikt om buiten te hangen. Heeft u interesse, bel me of u kunt een e-mail sturen.
Veel kijkplezier,
Jeanny
06-13351550
info@aurora-photography.nl
Hello
My name is Jeanny Jenniskens and I have enjoyed photographing for many years.
I followed courses to get to know my camera better, as well as some workshops by Steven Ruiter. At the end of 2013 I joined the photo club and I also read many books and magazines about photography.
There are many subjects and moments to photograph and for me that means capturing a memory and evoking atmosphere. During a holiday and going out in nature, for me are the moments that I can enjoy immensely.
TRAVEL PHOTOGRAPHY:
Because we have children living abroad, we are there as often as possible. Travel photography is something that has become a big part of our travels.
I invite you to take a look at my portfolio and would appreciate it very much if you leave a message in the guestbook.
FUNERAL PHOTOGRAPHY:
Making a funeral reportage is a memory for later that can help you with the processing process. I think it's nice to make this memory for the family. My goal is to capture atmosphere and emotion in a respectful way. Kijk op mijn site afscheidsfotograaf: http://www.jeannyjenniskens.nl
All photos on my website are for sale in many sizes and different materials such as: forex, canvas, aluminum, plexy glass, wood, aluminum dibond and metal. Some materials are even suitable for hanging outside. If you are interested, call me or you can send an e-mail.
Happy viewing,
Jeanny
06-13351550
info@aurora-photography.nl